Back
Ford/Lincoln - FCTP and LCTP management via Ford Telematics ®
Modern and affordable loaner fleet management with FordPass and Lincoln Way
ARSLoaner is the first vendor in the US authorized by Ford to use the FordPass and Lincoln Way modems to help dealers manage their loaner fleets. ARSLoaner provides the FCTP and LCTP software required to print the official insurance forms for the
Ford Courtesy Transportation Program (FCTP)
and the
Lincoln Courtesy Transportation Program (LCTP)
and can integrate your loaner management system with Ford Telematics ® to offer real time tracking, automatic fuel cost recovery, real time odometer and full vehicle health diagnostics. If your Ford or Lincoln dealership uses loaner vehicles, we have the most affordable and easy to use solution designed just for Ford/Lincoln. ARSLoaner has developed a web based solution for our Ford/Lincoln dealers that conforms to the exact specifications of the
Ford CTP
. This ensure FCTP and LCTP compliance. The ARSloaner system keeps all forms up to date by state to ensure your claims are submitted on the correct and most recent form for your state. This helps speed your insurance claim in case of an issue with any vehicle in your loaner fleet.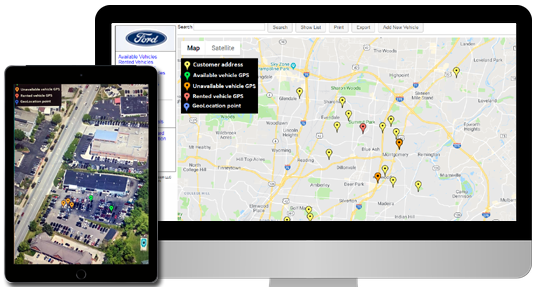 FEATURES
Full fuel cost recovery through Ford Telematics ®
Vehicle tracking on an integrated fleet map
Continual vehicle health moitoring and alerts
Geo-fencing with out-of-bounds alerts
Saves/stores customer information
Tracks all vehicle data, customer data, rental contract history
Vehicle Reservation system
Prints official Ford loaner agreements on plain paper or can be 100% paperless
Recovers tolls, tickets, fines
Runs on all platforms: iPad/tablet, iPhone or desktop
Complete audit trail for painless manufacturer audits
Drivers license scanner
Automated credit card capture
Paperless mobile write up with digital signature capture
Track vehicle damage by rental
Split billing - charging a rental to different departments and reimbursement types
A robust reporting dashboard with charts, graphs and reports to track your fleet performance
Free 30 day trial, no setup fee, user fee or contract!
Request a demo
The ARSLoaner vehicle management system tracks all activity so no more manual tracking in spreadsheets or filling out paper rental forms by hand. Our solution is tailored specifically to how the Ford Motor Company runs its courtesy vehicle program. The ARSLoaner system will help Ford dealers manage their loaner cars based on the time and mileage requirements established by the manufacturer. The system will notify you when you should remove a vehicle from the fleet and flags vehicles when they are eligible to be sold. This avoids mistakes and helps ensure your dealership receives the full incentives while avoiding chargebacks or penalties. Many, many Ford dealers across the US and Canada are already using the ARSLoaner system. Request a quick demo and to find out more and to see how ARSLoaner can solve your loaner car headaches! If you need additional information, references from some current Ford clients or would like to see how this Ford specific solution would work for you, please contact us: Call: 513-334-1040 ext#1
Email: ltierney@ARSLoaner.com
or signup now for a free trial:
Request a demo